MSU's Virtual Watershed Program
An Online Academic Credit or Certificate Program

Watershed management necessitates an interdisciplinary approach to problem solving, with law, policy, community development and resource economics issues contributing as much to solutions as engineering, biology, hydrology and chemistry. An effective watershed manager must understand the science behind water resources management and have skills in public relations, policy-making, and program evaluation.
Three Key Concepts
Partnerships with stakeholders affected by resource management decision
A geographic focus for management activities
Management techniques based on strong science and data.
Michigan State University has a unique opportunity to meet this education/information and ongoing service role required in the watershed planning area. Expertise in natural resources, land, aquatic systems and community development, and the land use policy and law perspectives exists among several departments. Multiple authors from various departments were tapped to create all course contents, resulting in a dynamic, team creation.
NOTE: These courses are not being offered Spring 2018. Check back in summer 2018 for course offerings.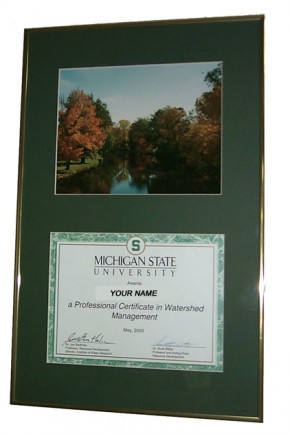 COURSE
SECTION
NUMBER OF CREDITS
&nbsp
&nbsp
&nbsp
Watershed Management Program
Full Semester
12
&nbsp
&nbsp
&nbsp
Module 1
CSUS 452/730
3
Watershed Concepts
Full Semester
&nbsp
&nbsp
&nbsp
Module 2
CSUS 841/730
3
Building and Implementing Watershed Management Plans
Full Semester
&nbsp
&nbsp
&nbsp
Module 3
CSUS 842/730
3
Watershed Assessments & Tools
Full Semester
&nbsp
&nbsp
&nbsp
Module 4
CSUS 843/730
3
Legal, Financial, and Institutional Frameworks for Watershed Management
Full Semester
The Institute of Water Research and the Department of Community Sustainability at Michigan State University are currently offering a series of Internet-based courses leading to undergraduate credit, graduate credit or a certificate of completion. Those individuals who complete all four modules (3-credits each) will receive a Certificate in Watershed Management. Courses need not be taken in any particular order, however, concepts do build upon each other from one module to the next. Whether you are a professional or a student, this program is an opportunity for you to update your skills to meet the challenges of resource management under the watershed approach framework.
The Watershed Management Certificate Program includes the following courses:
Complete all 4 modules and receive a Certificate of Completion and a beautiful plaque.
Note: These modules are not currently being offered for Spring 2018. Please check back in Summer 2018 for course offerings.