Congratulations to Jon Bartholic
IWR Director Jon Bartholic retired from Michigan State University in January 2017 after serving the MSU community for nearly 40 years. Jon will continue to work with the Michigan Chapter of the Soil and Water Conservation Society as President and facilitate networking among the Institute, University and Society members. He and his wife, Elaine plan to spend time at their upstate New York cottage and spend time traveling and enjoying family.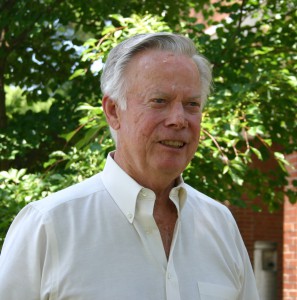 Dr. Bartholic joined the Departments of Crop and Soil Sciences, Resource Development, and the Michigan Agricultural Experiment Station in 1978 as Professor.  He later became Director of the Institute of Water Research and Coordinator for the Center for Remote Sensing. Previous to coming to MSU, Dr. Bartholic was Professor of Climatology at the University of Florida. Dr. Bartholic received his B.S. in Soil Science from Michigan State University and his Ph.D. in Soil Physics from South Dakota State University.
Dr. Bartholic has worked closely with MSU colleagues, state and federal agencies, and internationally on water quality and quantity issues and has authored many publications and presented at conferences. He testified before Congress in support of the federally mandated Water Resources Research Institutes Program. He has received numerous awards during his career including the Education and Public Service Award presented by the Universities Council on Water Resources; the John Hannah Award for Program Excellence; and the U.S. Army Corps of Engineers Detroit District, "Commitment to Excellence" award. He contributed significantly to the design and implementation of a series of MSU Virtual University Watershed Courses and has mentored numerous students as chair or member of theses and dissertation committees.
We wish Jon the best in retirement and are grateful for all of his contributions to IWR.