New Director Appointed at IWR
Darrell W. Donahue, chair of the Department of Biosystems and Agricultural Engineering since July 2015, has been named director of the Michigan State University's Institute of Water Research (IWR). His appointment is effective immediately.
He replaces Jon Bartholic who retired Jan. 31, after having served as IWR director since 1983 and IWR acting director since 1978.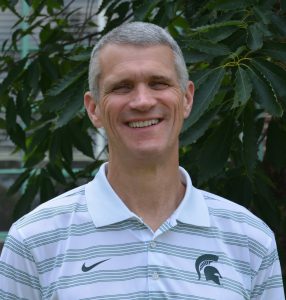 Donahue, who will continue his role as department chair in addition to IWR director, has recently worked in the realm of food safety, lending his expertise in statistics, modeling and simulation to issues related with chemical and microbial risk assessment. He served as an American Association for the Advancement of Science Fellow in 2007-2008 at the U.S. Department of Homeland Security where he focused on security and health affairs. He continues to consult with the government on security issues related to risk assessment.
Additionally, he has served on three National Academy of Sciences and international panels addressing food safety and currently serves as a consultant on two World Health Organization food safety committees.
Prior to coming to MSU in 2015, Donahue served as vice president of operations and research director at Maine Maritime Academy.
He began his academic career in 1995 at the University of Maine where he served as professor of chemical engineering, associate director of the Forest Bioproducts Research Institute and was affiliated with the Maine Water Research Institute. Prior to that, he was a process engineer with a private company for nine years while earning his graduate degrees.
Donahue earned his bachelor's, master's and doctoral degrees from North Carolina State University. He is an outdoors person who grew up on a farm in North Carolina.